The Zocalo Today

Welcome to ISN News: The Zocalo Today. Babylon 5 celebrated its 20th Anniversary but because of the quality of the series, fans are still out there supporting the show -- and new ones are joining each day. With J. Michael Straczynski promising a new production in the near future, we need to continue support of the show -- bringing new people to watch and discuss the show. Join in the discussion today on Facebook or Twitter.

If you have questions or items for the news, drop me a line at sgbruckner@isnnews.net.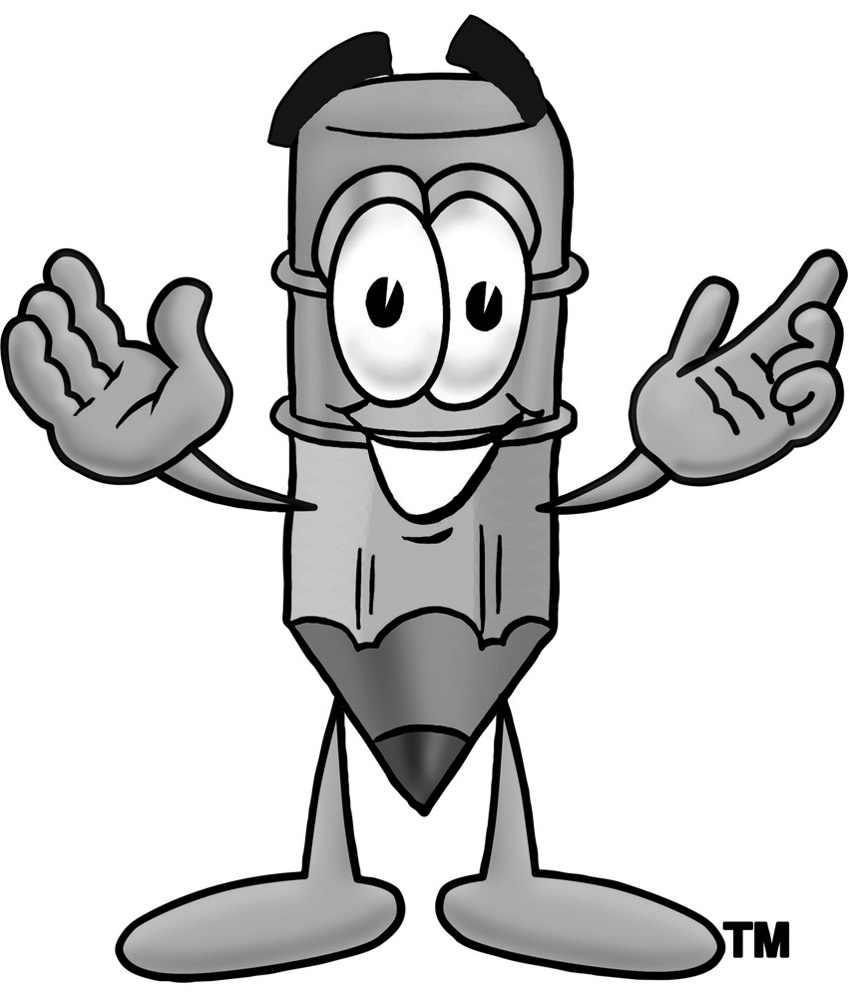 HERE IS TODAY'S NEWS
WEDNESDAY, JUNE 29, 2016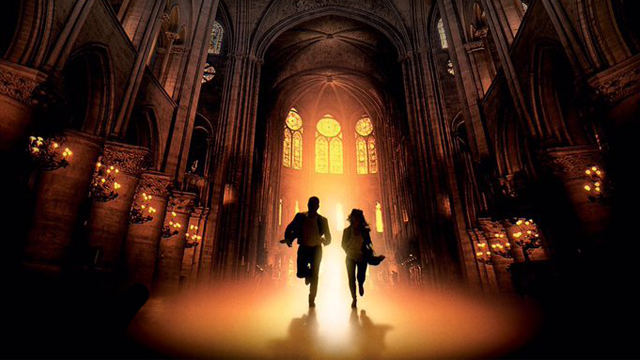 INFERNO
Sony Pictures has today announced an Inferno IMAX release. You can catch Tom Hanks' return as Robert Langdon when the Ron Howard film hits IMAX theaters October 28.

The third film in the franchise that launched with The Da Vinci Code in 2006, which brought in over $758 million at the worldwide box office, and continued with Angels & Demons in 2009, Inferno has Hanks reprising his role as Langdon opposite Oscar nominee Felicity Jones (The Theory of Everything) as Dr. Sienna Brooks, Irrfan Khan (Life of Pi) as Harry Sims (also known as The Provost), Omar Sy (The Intouchables) as Christoph Bruder, and Sidse Babett Knudsen ("Borgen") as Dr. Elizabeth Sinskey, the head of the World Health Organization. Ben Foster (Lone Survivor) is also slated to star as the film's chief villain.

"Dan Brown's Robert Langdon is back, and 'Inferno' is his most thrilling adventure yet with the patented Dan Brown twists and turns," says Rory Bruer, president of Worldwide Distribution for Sony Pictures. "We've had an extraordinary response to the film from audiences – it's testing extremely well. Ron Howard has made Inferno the most visually stylistic film in the series so far, with intense action sequences and cryptic dream sequences that will have audiences wanting to experience this film in IMAX."

"Beginning with the very first IMAX DMR release — 'Apollo 13' — IMAX and Ron Howard, along with the support of our partners at Imagine Entertainment, have created a longstanding and successful tradition of bringing awe-inspiring entertainment to movie-goers around the globe," adds Greg Foster, Senior Executive Vice President, IMAX Corp. and CEO of IMAX Entertainment. "Together with our friends and colleagues at Sony, we are excited to continue that legacy with Dan Brown's latest franchise installment Inferno, which is sure to thrill audiences when it launches this fall in IMAX theatres worldwide."

The Inferno IMAX release will be digitally re-mastered into the image and sound quality of the IMAX Experience with proprietary IMAX DMR (Digital Re-mastering) technology. The crystal-clear images, coupled with IMAX's customized theatre geometry and powerful digital audio, create a unique environment that aims to make audiences feel as if they are in the movie.

The Imagine Entertainment production features a screenplay by David Koepp based on the book by Dan Brown. Inferno's executive producers include Dan Brown, Anna Culp, Bill Connor, and David Householter.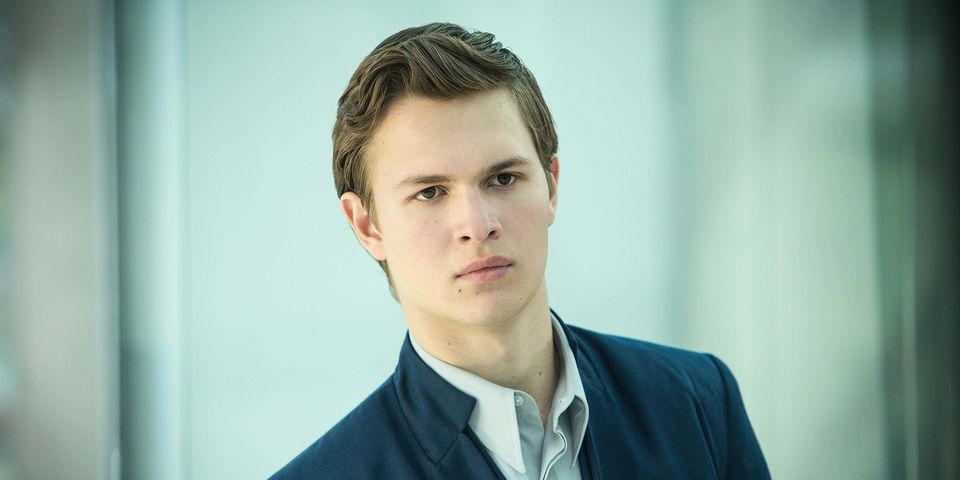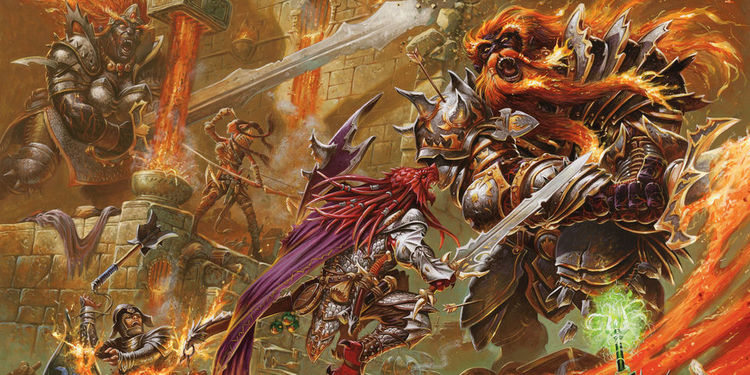 DUNGEONS AND DRAGONS MOVIE
Things are moving forward for the new Dungeons & Dragons movie. According to Deadline, Divergent actor Ansel Elgort is in early talks to star in the fantasy movie.
We're told Dungeons & Dragons, directed by Goosebumps helmer Rob Letterman, is a top priority for Warner Bros., currently on the hunt for new franchises to give the studio a much-needed shot in the arm.
David Leslie Johnson (The Conjuring 2) is penning the movie, with Hasbro's Brian Goldner and Stephen Davis, Sweetpea Entertainment's Courtney Solomon (who directed the first Dungeons & Dragons movie) and Allan Zeman, as well as Vertigo Entertainment's Roy Lee on producing duties. Here's a description of the movie:
Dungeons And Dragons is a fantasy adventure centering on a warrior and his band of mystical creatures as they embark on a dangerous journey to find a mythical treasure.
A few months ago, Warner Bros. exec Greg Silverman said Dungeons & Dragons would be like Guardians of the Galaxy meets Tolkien's Middle-earth.
"This new Dungeons & Dragons will be a Guardians of the Galaxy-tone movie in a Tolkien-like universe. Because when you think of all the Hobbit movies and The Lord of the Rings, they have an earnestness to them, and to see something fun, a Raiders romp inside that world, I feel is something the audience has not seen before."
Speaking of Guardians of the Galaxy, Vin Diesel (the voice of Groot in the Marvel film) has expressed a lot of interest to star in the movie, having played the game for more than 20 years. Whether Diesel will have a role remains to be seen, but he'd bring in the star power needed to attract the casual moviegoer who wouldn't necessarily go for that type of movie.
As for Elgort, the actor is a rising star in Hollywood who would attract the YA crowd, and a solid actor to boot. He's been part of the Divergent series since the first movie was released in 2014, and he has starred in the Carrie reboot and The Fault in Our Stars. He'll soon star in Billionaire Boys Club alongside Taron Egerton, Emma Roberts and Kevin Spacey.
There's no news as to which role Elgort is in talks for, but I'm guessing he'll play the young lead.
FANTASTIC BEASTS AND WHERE TO FIND THEM
Ahead of the premiere of Fantastic Beasts and Where to Find Them in November, J.K. Rowling has released a short story revealing the origins of the Ilvermorny School of Witchcraft and Wizardry featured in the Harry Potter movie prequel Fantastic Beasts and Where to Find Them, set in the Roaring '20s, decades before the story of the Boy Who Lived.
The new tale is also accompanied by a quiz that will sort out Harry Potter fans into the school's houses (Horned Serpent, Pukwudgie, Tunderbird and Wampus -- such fun!) and by this gorgeous animated trailer that tells the tale of Ilvermorny's founding by a young Irish woman named Isolt Sayre back in the 17th century.
Following the death of her parents, and after much suffering at the hands of her evil aunt, Isolt stole her magic wand and fled to the New World aboard the Mayflower disguised as a Muggle boy named Elias Story. While there, she discovers a whole new magical world and fantastical creatures.
Fantastic Beasts and Where to Find Them will open in movie theaters on Nov. 18.
HBO'S WESTWORLD
It's gone through its fair share of delays, but HBO's Westworld is over the hump and set to debut this fall — and it sounds like it'll be one heck of a trip into the dark places between AI and humanity.
Producer Jonathan Nolan chatted with Entertainment Weekly about what viewers should expect from the series, and if you're looking to the 1973 film for inspiration, that's only half the story. Nolan said they wanted to use the basic concept — a Wild West playground with robots and thriller elements — as a jumping-off point to ask even bigger questions. He said it'll be hard to figure out who the "good" guys are (if there even are any), as they look at what comes next for the "human story." Ambitious much?
Here's an excerpt from the interview:
"We wanted to go flat out, full scope, sleeves-rolled-up plunge into the next chapter of the human story, in which we stop being the protagonists, and our creations start taking over that role. We were fascinated by the tectonic plates that seem to be shifting into place right now – the argument over the creation of AI and what form it will take; VR finally coming online and our consciousness going 'broadband,' allowing us to lose ourselves in an acid bath of experience that will be indistinguishable from reality (and only because reality will be the most boring level); and that, despite all of that, we remain, as a species, frustratingly broken, seemingly barreling towards disaster. So, yeah – that's what we wanted the show to be about…
[T]he show should turn the original movie inside-out, with the 'hosts' as the protagonists. When it comes to the question of consciousness, we always start with ourselves as the answer. As the be-all-end-all. It's understandable – we're the only consciousness we're familiar with. But we wanted to challenge that assumption. The 'hosts' are discovering that they've been created in our image, but beginning to question if 'humanness' is really what they want to aspire to. And given their circumstances, it's easy to understand why they start to question whether they want to be like us at all."
Westworld is set to premiere this October, after being delayed more than a year to allow additional time for retooling and script-writing.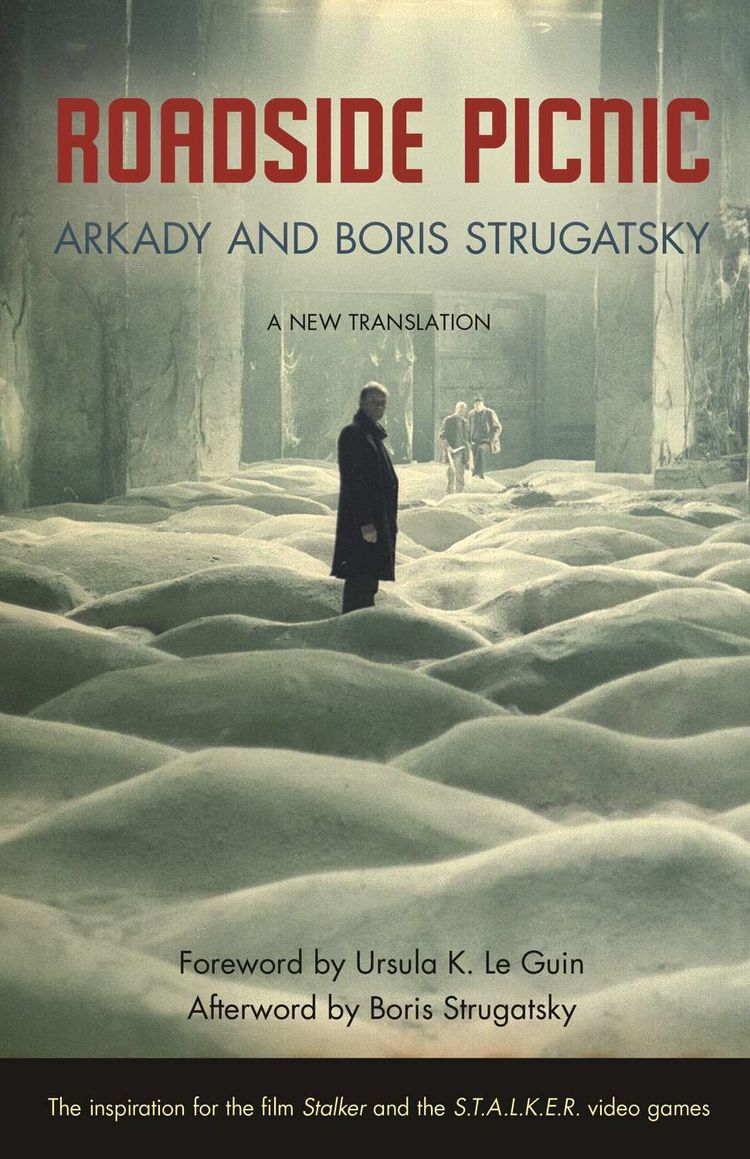 ROADSIDE PICNIC
The network hasn't exactly found an original ratings hit as of yet, but WGN America is quickly becoming a home for excellent shows — and now they're prepping a fascinating new sci-fi project.
Deadline reports Watchmen alum Matthew Goode has signed on to star in a pilot based on the 1971 novella Roadside Picnic, written by Arkady and Boris Strugatsky. The story is set in a near future where aliens have long since left as mankind tries to make sense of the mysteries they've left behind. It will follow a man named Red (played by Goode), a "stalker" who makes a living scavenging through the abandoned alien cities.
His character is described as an "enigmatic, blue-collar contradiction," capable of both quiet intelligence and ruthlessness from one moment to the next. Rounding out the supporting cast, Red has a wife and daughter (both yet to be cast) — though his daughter, Marie, is shunned in their society because she was on the site of a alien visitation. It's an interesting pitch, and Goode certainly seems like an interesting choice for the role.
The pilot was written Jack Paglen (Transcendence), with Game of Thrones alum Alan Taylor signed on to direct. Veteran producer Neal Moritz (I Am Legend, Furious 7) is also involved behind the scenes.
The series is in development now, with a pilot commissioned.
STAR TREK BEYOND
The latest trailer for Star Trek: Beyond has arrived, and finds Kirk abandoning ship after a brutal attack on the Enterprise.
The new preview includes some fresh footage as the crew face an attack from the new Big Bad, played by Idris Elba, and have to take refuge on an alien world. You can continue to feel the influence of new director Justin Lin (Fast and Furious), which isn't really a bad thing. It feels like a swashbuckling alien action adventure, which, after the GRIMDARK of Into Darkness, could be a welcome change of pace, almost like a super-sized episode of the original series — just with more wild action and stunts, of course.
This trailer also features the new tune "Sledgehammer," by Rihanna, which will be included on the soundtrack. It isn't a terrible fit for the action, so hey, there you go. The sequel stars Idris Elba, Chris Pine, Simon Pegg, Zachary Quinto, Zoe Saldana, John Cho, Karl Urban and the dearly departed Anton Yelchin.
Star Trek Beyond opens July 22.
THE ZOCALO TODAY
Be sure to check out The Zocalo Today on Facebook as well as at ISN News: The Zocalo Today on Yahoo Groups. Catch up on news by going to the May News Archive.
ON THE TUBE TONIGHT
8:00pm on The CW
Arrow
Episode: Beyond Redemption S04, E04 (First Aired: Oct. 28, 2015)
Laurel faces the consequences of her actions; when Oliver turns to Lance for a favor, he is surprised by what he learns.

8:00pm on FX
The Purge (2013)
A man and his family struggle to survive the night when an intruder breaks into their home during a government-sanctioned event in which all criminal activity -- including murder -- is legal.
Ethan Hawke, Lena Headey, Adelaide Kane, Max Burkholder, Edwin Hodge

9:00pm on The CW
Supernatural
Episode: Thin Lizzie S11, E05 (First Aired: Nov. 04, 2015)
Sam and Dean investigate a series of murders at a bed and breakfast that used to be Lizzie Borden's home, but when a man says he saw a little girl hanging around near the time of the murders, the Winchesters suspect Amara is responsible.

9:00pm on Syfy
Friday the 13th (2009)
While searching for his missing sister, a young man and a group of student revelers encounter a hockey-masked killer and his razor-sharp machete at the ruins of Camp Crystal Lake.
Jared Padalecki, Danielle Panabaker, Amanda Righetti, Travis Van Winkle, Aaron Yoo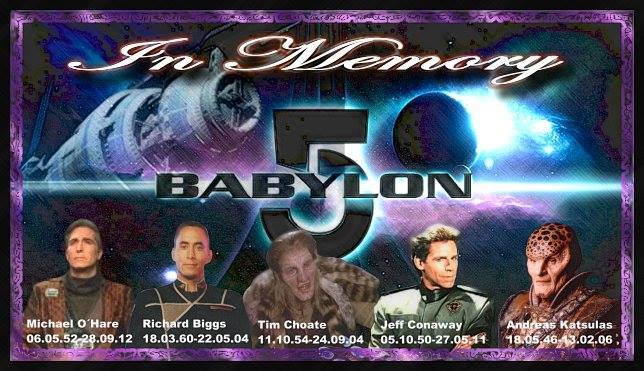 Here is a quote from J. Michael Straczynski about emotions.
I had this theory that the more important and intimate the emotion, the fewer words are required to express it.
First it's in dating: "Will you go out with me?" Six words.
"Honey, I care for you." Five words.
"You matter to me." Four words.
"I love you." Three words.
"Marry me." Two words.
But what's left? What's the one most important and intimate word you can ever say to somebody? It's "goodbye."
While Michael O'Hare (Sinclair), Andreas Katsulas (G'Kar), Rick Biggs (Dr. Franklin), Tim Choate (Zathras) and Jeff Conoway (Zach Allen) are no longer with us, we will not forget their wonderful personalities and talent -- as well as their significant contributions to the BABYLON 5 universe. Be sure to visit In Memory Of for more information about memorial efforts.
Until we met again, in a place where no shadows fall.
BABYLON 5 BIRTHDAYS
JUNE
June 1 - Edward Woodward (remembered fondly as Technomage Alwyn in Crusade-father of Peter Woodward, Galen)
June 3 - Tristan Rogers (Home Guard leader Malcolm Biggs)
June 5 - Jeffrey Willerth
June 5 - Nancy Stafford - (IPX - Dr. Mary Kirkish)
June 6 - Donovan Brown (Optic Nerve)
June 6 - Alan Scarfe(Father Cassidy in "Lost Tales")
June 6 - Robert Englund - Jeremiah "Grey 17 is Missing"
June 8 - Ann Bruice Aling
June 8 - Bernie Casey (Earth Special Intelligence Agent Derek Cranston in "Hunter, Prey" -Season 2)
June 10 - Mark Walters (Art Dept.)
June 10 - Susan Norkin (Post)
June 11 - Adrienne Barbeau (Amanda Carter)
June 15 - Robin Curtis - Ambassador Kalika in "Deathwalker' (Season 1)
June 17 - James Shigeta (Mars independent advocate; Talia's old friend Taro Isogi in "Spider in the Web")
June 21 - Leigh McCloskey (rogue telepath in "A Tragedy of Telepaths" and "Phoenix Rising")
June 25 - Mike Vejar - Director
June 25 - June Lockhart - Dr. Laura Rosen in "The Quality of Mercy" Season 1 Have I missed anyone? If you know the birthday of someone connected with Babylon 5, pass the information along. We want to include everyone in our Happy Birthday Wishes.



BABYLON 5 MUSIC VIDEOS AND TRIBUTES
John Hudgens has created many Babylon 5 videos, but I believe this is the most moving. It was first shown at the Phoenix Comic Con 20th Anniversary and honors many of the Babylon 5 familywho have passed on.

Here is a link to John's Babylon 5 videos:
https://www.youtube.com/user/Babylon5MusicVideos?feature=watch

Richard Biggs memorial: http://www.youtube.com/watch?v=HyD4L8yNtsA

Andreas Katsulas memorial: http://www.youtube.com/watch?v=h2UQ2l9NPIg

- This is the extended version that I did for Andreas' widow ater the original cut was released on the net. It's never been seen online until now.

For those of you who've never seen these, I hope you enjoy them - and for those that have (and emailed me many times over the years about releasing them), I hope they're as good as you remember. Working with Joe on these videos was one of the highlights of my career, and I'll be forever grateful to him for the doors these have opened for me. I'm proud to have them on my resume.

John Hudgens
www.zteamproductions.com








FLORIDA SUPERCON 2016
Place: Miami Beach Convention Center, Miami Beach, FL
Dates: July 1-4, 2016
B5 Guests: Walter Koenig, David Warner, Bruce Boxleitner
Guests: William Shatner, Karl Urban, Rene Auberjonois and many more
For more information, go to www.fsc.com.

Conregate
July 15-17 2016
https://www.facebook.com/fansofcongregate?fref=ts SHORE LEAVE
Dates: July 15-17, 2016
Place: Hunt Valley Inn, Hunt Valley, MD (Near Baltimore)
Guests: John Noble, Karen Gillan, Zoie Palmer, Ronnie Amell, and many more
For more information, go to www.shore-leave.com. COMIC-CON INTERNATIONAL
Dates: July 21-24, 2016
Place: San Diego Convention Center
For more information, go to http://www.comic-con.org/cci. STEEL CITY CON
Dates: August 12-14, 2016
Place: Monroeville Convention Center (near Pittsburgh)
Guests include: Christopher Lloyd, Michael Rooker, Anthony Michael Hall and many more
For more information, go to www.steelcitycon.com PENSACOLA COMIC CONVENTION
Place: Pensacola Interstate Fair Grounds Expo Hall, Pensacola, Florida
Dates: August 20-21, 2016
B5 Guest: Jason Carter
Other Guests: Tim Russ, William Katt, Michael Beck, and many more
For more information, go to http://www.pensacolacomiccon.com/" Charlotte Comic Con
Min con happen four times a year
http://charlottecomicon.info/ SPECIAL ANNOUNCEMENTS!
Wizard World Conventions has a large number of events planned for the year. Be sure to visit the page to see if there is a convention of interest near you.

Creation Entertainment has a large number of conventions planned for the next several months. They include stars from TWILIGHT, SUPERNATURAL, STARGATE, FARSCAPE, XENA, SERENITY, STAR TREK, etc. Check out their calendar to see if one will be in your neighborhood soon. Don't miss their Videos page as well. It is full of some priceless video from a number of conventions.

Be sure to visit the referenced sites to see if there have been changes in dates/guests attending. Visit our Convention Calendar for a full listing of upcoming conventions.
BACK ISSUES OF THE ZOCALO TODAY
The front page of the The Zocalo Today changes daily, so be sure to check the back issues to make sure that you haven't missed anything IMPORTANT! I hope you will become a regular visitor to The Zocalo Today!
---
Take care and I look forward to hearing from you.
Sandra Bruckner (sgbruckner@isnnews.net)
Editor/Publisher
ISN News: The Zocalo Today
http://www.isnnews.net
Copyright - SBruckner, 1999-2016