WELCOME TO THE ZOCALO PHOTO ALBUM
VISIONCON 2001 - Springfield, Missouri
Jason Carter models the latest in retro rainwear gear at Visioncon 2001 in Springfield, MO.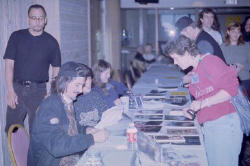 It's Rick Biggs' turn to sneak up on Jason Carter as Jason signs an autograph for Ranger Ella.
Peter Woodward's radiant smile overpowers Ranger Robert's film at Visioncon 2001 in Springfield, MO. (Actually, Ranger Robert learned how to use flash from Zathras' brother Zathras. Ranger Robert Apologizes. Ranger Robert go now.)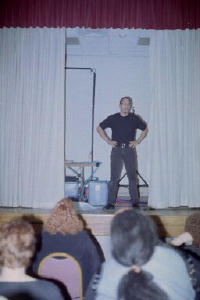 Richard Biggs at Visioncon 2001 in Springfield, MO: "OK, listen up! This is my show..."
OBJECTS AT REST
A number of people asked me to post a picture as I appeared in "Objects at Rest" -- the last episode of Babylon 5 that was filmed. I was among the 80+ extras out that day, and I can only say, "it was an experience I'll not forget."








Here are some photos that fans have asked to share with others fans. I've divided this page into two, since it was getting huge. Don't miss page 2 of the photo gallery. Photos 2.
FARPOINT - Baltimore, MD
CHICAGO - WIZARD WORLD














Ranger Robert snapped these pics of the Great Maker at WizardWorld con recently. Joe was giving an interview as he walked by. This looks like the streaming booth that I saw at Dragoncon. Interesting!




VARIOUS EAST COAST CONVENTIONS












#1 B5 Fan Connie with Rick Biggs & Bob Krimmer.












Connie with Carrie Dobro & Daniel Dae Kim from Crusade at Valley Forge Convention.
TORONTO TREK
Photos taken by Charles Mohapel
DRAGONCON, ATLANTA, GA
























Three of my favorite people.


















Bob Krimmer, Brad Dourif listening intently to a visitor at his table.


















Bill Mumy -- wonderful concert; Tracy Scoggins with her mom.













Andreas talking with Francesca at the convention. Andreas was a SUPERB emcee at the masquerade with Chase Masterson!



















Ron, a special guy; Dirk - the person who made the Babylon 5 panel happen














John -- the B5 music video guy. Watching John's videos was one of the most enjoyable times of the convention.















Just a few of the hundreds of costumes from the weekend.















Just two guys who love to party. Thanks Penny for the pics.































Some great photos courtesy of Chrystie.




















Sunday's panel with all the Babylon 5 guests.





AGAMEMCON, BURBANK, CA





















Bill Blair, Evan Chen, Peter Woodward -- all with Armen at Agamemcon.





















Tracy Scoggins with her Mom.
Panel discussion featuring Wayne Alexander, Gregory Keyes, Jeff Conaway and Fiona Avery.
FEDCON, BONN, GERMANY
PITTSBURGH COMICON











Peter Woodward busily signing autographs and talking to Mac in Pittsburgh (well Monroeville, really). Larger versions of the pictures are available at http://albums.photopoint.com/j/AlbumIndex?u=175429&a=5690959
VULKON, ORLANDO, FL





















Claudia Christian at the Vulkon convention in Orlando, Florida.
GALLIFREY
Ranger Teri sent along these fantastic photos from the Gallifrey convention in California.
ICON19, State Univ. of New York at StonyBrook, NY
Jason Carter at ICON19. Love the t-shirt!


















StarFury, London, UK
Opening Ceremonies!






B5 actors accepting the 5 Times Readers awards for "Sleeping in Light" episode






Andreas Katsulas and Peter Jurasik playing the famous fake JMS script with a little help from Rick Biggs.






The guys from Earth: Final Conflict. Richard chevelleau, Robert Leeshock and Van Flores






Visioncon, Springfield, MO, Feb. 17-20, 2000
















Springfield's Babylon 5 Fan Club and table at Visioncon. I got rather attached to Bob Krimmer's Fedora!
















Three new friends - Don, Sean and Mike. This was their first convention. Here's a picture of Myhr, alias Jamie Murray.
Jamie Murray's paintings of Michael O'Hare, Claudia Christian,
Mira Furlan, Andrea Thompson and Jerry Doyle. Visit http://www.users.zetnet.co.uk/suehaley/myhr.htm to
see more of Jamie's fantastic artwork.